Sterling to Euro Exchange Rate Today: August 19th 2019 14.45

1 GBP = 1.0927 EUR
1 EUR =  0.9149 GBP
Before last week – Sterling had fallen for 14 consecutive weeks against the Euro, but last week it rose by 2% .
The Pound-to-Euro exchange rate went to a 10-day high at 1.098 on Friday after moves by the Labour and Liberal Democrat parties to topple the Boris Johnson Government and replace it with a caretaker cross-party Government to delay Brexit.

The current pound euro exchange rate is still a significant drop of 7.4% from the level of €1.1801 seen in the middle of March 2019.
Rabobank's 3-month forecast for the Pound-to-Euro exchange rate is €1.11. But – should a 'no deal' Brexit occur, Rabobank sees the Pound-to-Euro exchange rate falling to parity.
See Today's latest Exchange Rates Here

---
Is now a good time to buy Sterling?
Anyone who is planning on buying the pound now has an opportunity to buy the currency at its cheapest levels for almost 2 years. Good news for anyone planning a property or car purchase in the UK .

Using a Currency Exchange specialist can remove some of the uncertainty by allowing you to fix an exchange rate as much as 12 months in advance of your transfer.
If you are looking to convert large amounts of Euro to Sterling – then now might be a very good time to lock in the current exchange rate.
For the best deals on currency exchange for large amounts – see our page on how and where to get the Best Exchange Rates.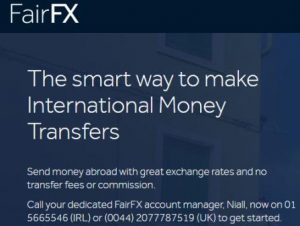 You might also be interested in this information about Transferring Money between Ireland and the UK
If you are just looking at the best time to buy some Sterling cash for a holiday – take a look at our page about the best place to buy Sterling in Ireland
For those interested in the Euro Dollar exchange rate.
1 EUR = 1.109515 USD
1 USD = 0.9013 EUR