Sterling Euro Exchange Rate Today : April 18th  2019 11.00 am
1 GBP = 1.1561 EUR
1 EUR =  0.865 GBP
As expected – Brexit is still causing a lot of volatility in the Sterling Euro exchange rate. Brexit has been extended –  but that didn't prevent the pound from drifting lower versus the euro last week. The pound euro exchange rate hit a high of €1.1622, before falling to €1.1550 on Friday, before closing at €1.1579.  Yestarday , poor UK inflation figures caused Sterling to fall slightly again. With trading volumse lower over the Easter weekend, there could be sharp spikes should there be any developments with Brexit.
According to a recent Bank of England analysis,  if the UK goes through a "disorderly"  / no deal Brexit , Sterling could fall by 25% under a worst-case scenario.  This could see the Pound  fall to parity against the Euro.
See Today's latest Exchange Rates Here

---
With so much  uncertainty in the currency markets at the moment –  it could get quite stressful for people or businesses planning large Euro / Sterling exchanges in the next few months.   We are in a period of high volatility which, depending on your timescales and budget, could cause problems if you are not properly prepared.
Using a Currency Exchange specialist  can remove some of the uncertainty by allowing you to fix an exchange rate as much as 12 months in advance of your transfer.  For good deals on currency exchange for large amounts –  for personal money or for businesses – see our page on how to get the Best Exchange Rates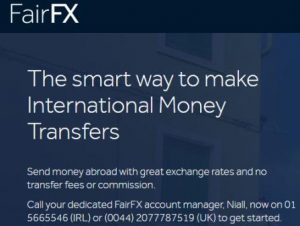 You might also be interested in this information about  Transferring  Money between Ireland and the UK
If you are just looking to buy some Sterling cash for a holiday  – take a look at our page about the best place to buy Sterling in Ireland