Euro Sterling Exchange Rate  : August  8th  2018 10am
1 GBP = 1.109 EUR
1 EUR =  0.901 GBP
See the Latest  Exchange Rates Here

---
The pound fell versus the euro for a second straight session on Tuesday. Sterling plummeted in early trade to €1.1151, its lowest level in 5 months.  Brexit is the main reason for the fall as investors start to realise that time for a deal is running out and that a hard, no deal Brexit is looking increasingly likely.
The highest Pound to Euro exchange rate of the past 365 days was €1.158  on 17th April 2018.
Sterling did not perform too well overall in 2017 – at its lowest point the Pound went to just €1.08 – down from €1.31 in the month before the Brexit referendum in 2016.
---
With so much  uncertainty in the currency markets at the moment –  it could get quite stressful for people or businesses planning large Euro / Sterling exchanges in the next few months.   We are in a period of rate volatility which, depending on your timescales and budget, could cause problems if you are not properly prepared.
Using a Currency Exchange specialist  can remove some of the uncertainty by allowing you to fix an exchange rate as much as 12 months in advance of your transfer.  For good deals on currency exchange for large amounts –  for personal money or for businesses – see our page on how to get the Best Exchange Rates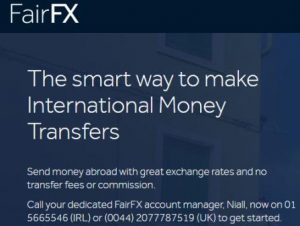 You might also be interested in this information about  Transferring  Money between Ireland and the UK
If you are just looking to buy some Pounds for a holiday  – take a look at our page about the best place to buy Sterling in Ireland